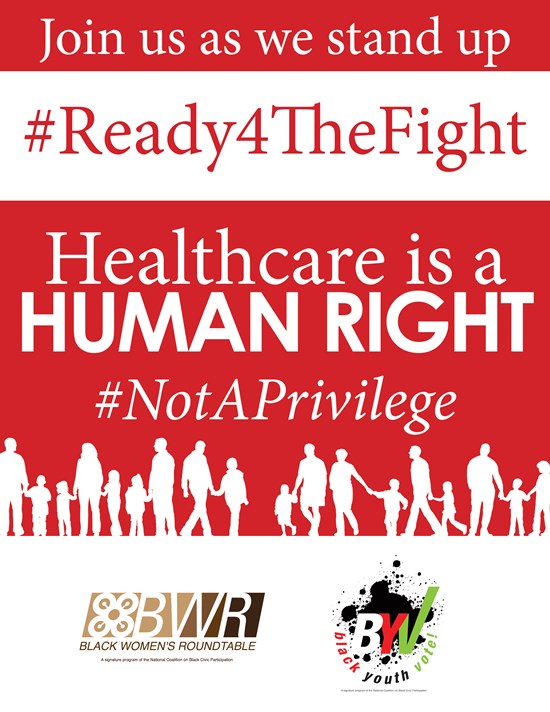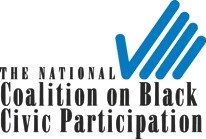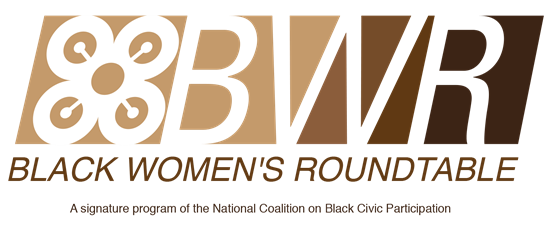 1050 Connecticut Avenue, NW
5th Floor - Suite #500
Washington, D.C. 20036
(202) 659-4929;(202) 659-5025 (fax)
www.ncbcp.org

MEDIA ADVISORY: CONTACT:
Lon Walls at (301) 996-1669
lwalls@wallscomm.com

BLACK WOMEN'S ROUNDTABLE AND AARP LAUNCH
"HEALTHCARE IS A HUMAN RIGHT" #NOTAPRIVILEGE CAMPAIGN
Black Women Leaders Join Forces In A Call To Action to Protect Medicare, Medicaid, and Affordable Health Care
May 31, 2017 (Washington, DC) – Today, the National Coalition on Black Civic Participation's (NCBCP) Black Women's Roundtable (BWR), in collaboration with the AARP, announced the launch of its HealthCARE is a Human Right #NotAPrivilege Campaign (BWR HealthCARE Campaign). The campaign is a call to action, beginning today, that is focused on protecting Medicare, Medicaid and quality affordable health care for seniors, children, young adults and the poor; and protecting Social Security for seniors, dependents and the disabled.

Melanie Campbell, NCBCP President & CEO and Convener of the Black Women's Roundtable shares why they are embarking on this campaign, "Given the drastic cuts in the President's proposed budget that includes a proposed $1.4 trillion cut in Medicaid, the continued attacks against the Affordable Health Care Act, and the looming attacks against Social Security and other safety net federal programs, it is vital that Black women and all people of good will speak out and challenge their Congressional representatives to be the 'check and balance' that their constituents voted them to be and protect the most vulnerable in our communities, our children, seniors, working families and the poor."

"Protecting affordable health care is one of the fundamental tenets of our mission," said Edna Kane Williams, AARP Senior Vice President of Multicultural Leadership. "It is imperative that we continue to advocate against the proposed budget cuts to key health programs and acknowledge the importance of health care and the overall well-being of Black women and their families."

BWR HealthCARE Campaign Advisor Dr. L. Toni Lewis shared, "My mother has always said, when America gets a cold, Black women and families get pneumonia. So, it is enormously important for Black women's leadership and voices to be heard and lifted up in this campaign."

The BWR HealthCARE Is a Human Right #NotAPrivilege Campaign will include tele-town halls, social media engagement, op-eds, blogs, Twitter Thunderclaps, Twitter Chats, community organizing during the August Congressional Recess, and other public awareness and calls to action efforts. These strategies will highlight the importance of health care and other safety-net programs to the well-being of Black women and families. Additionally, the NCBCP will also continue to disseminate elements of the BWR Report, Black Women in the U.S., 2017, that address these issues as well. Key findings of this report will be promoted as a part of the social media campaign. In addition, future surveys and polls conducted by the BWR will feature expanded questions focused on health care, Social Security, Medicaid and Medicare to further access these policy priorities for Black women.

Further, Avis Jones-DeWeever, PhD, BWR Senior Policy Advisor, stresses "It is literally mathematically impossible to balance the budget on the backs of the poor. Yet, this White House uses this excuse to call for the enactment of a dangerous and highly punitive budget that puts America's most vulnerable citizens directly in its crosshairs. Its draconian cuts represent a clear and present danger to the health and well-being of those Americans already struggling to survive. A collective movement to combat these cuts is absolutely necessary."

Additional national and state-based partners include: A. Philip Randolph Institute, Alabama Coalition on Black Civic Participation/AL BWR, Black Youth Vote!, Clayton County GA BWR, Florida Coalition on Black Civic Participation, Florida BWR, Georgia Coalition for the People's Agenda/GA BWR, International Black Women's Public Policy Institute, Labor Project for Working Families, Family Values @ Work, Moms Rising, Mothers of Hope/Kalamazoo BWR, Mothering Justice/Detroit BWR, National African American Clergy Network, National Council of Negro Women, National Organization of Black County Officials, NOBEL Women, North Carolina BWR, Ohio Unity Coalition, Pittsburgh BWR/SSON, Women's March on Washington and others. The BWR HealthCARE Campaign is also supported by the Moriah Fund.
For more information on the campaign contact Ebonee Rice, BWR Projects Manager, NCBCP, at bwrunity@ncbcp.org or (202) 659-4929.
###

The National Coalition on Black Civic Participation (NCBCP) is one of the most active civil rights and social justice organizations in the nation "dedicated to increasing civic engagement, economic and voter empowerment in Black America." The Black Women's Roundtable (BWR) is the women and girls empowerment arm of the NCBCP. At the forefront of championing just and equitable public policy on behalf of Black women, BWR promotes their health and wellness, economic security & prosperity, education and global empowerment as key elements for success.