Unity '18 Ronald W. Walters Election Day

Command Center
Organized and Co-Hosted by
National Coalition of Black Civic Participation, Howard University Ronald W. Walters Leadership and Policy Center, Congressional Black Caucus Foundation, Inc., A. Phillip Randolph Institute, National African American Clergy Network, and Black Voters Matter.
Media Partner: Roland Martin Unfiltered
The UNITY'18 Ronald W. Walters Election Day Command Center (RWCC) will monitor, track and communicate with on-the-ground field operations in selected states to ensure 'real-time' reporting and trending, to share voters' experiences at the polls, to analyze voter turnout reports and analyze election results to share with the nation through social media and traditional media outlets. The RWCC will track issues and problems at the polls and monitor actual Black Voter turnout and voting patterns throughout Election Day.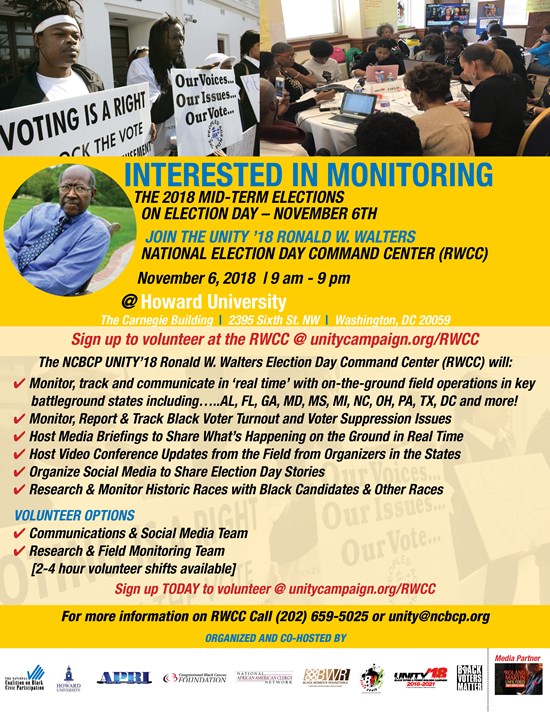 We are looking for a few great volunteers to be a part of monitoring and communicating about the Election Day experience for Black people in states like Alabama, Florida, Georgia, Michigan, Ohio and more. Volunteers must be available for at least a 2-hour shift, be savvy in social media or proficient in internet searches and have an interest in communication, politics or current affairs.
Two options for volunteering: research team or social media team.
Social media team will monitor and distribute social media content relevant to the election throughout the day, based on content from live reports from the field and information generated from Research Team. The Research Team will track and follow key identified races important to black people, collect background information on historic races with Black Candidates, and monitor news and social media feeds for voting stories about Black people.
For more information, email Holli Holliday at holliunity@ncbcp.org.