Archives from the Unity 16 Campaign
What's At Stake
The 2016 Presidential Election will determine whether our nation moves forward building upon a hope and change agenda or moves backwards to a dark period of exclusion where the wealth gap continues to rise, the poverty rate increases, the middle class dissolves and voting rights are repressed for minorities, the elderly, immigrants and youth.
In 2016, there is much at stake when the nation will elect the 45th president, 435 members of the U. S. House of Representative, 34 U. S. Senators, 12 state governors and 88 of the 99 state legislative chambers; and 41 of the 100 largest cities and municipal governments.
About Unity'16
The National Coalition on Black Civic Participation (The National Coalition) will celebrate the 40th Anniversary of its founding in 2016focused on organizing, amplifying and leveraging the voices and impact of the Black vote in the 2016 Presidential Election Cycle through its Unity 2016 Civic Engagement & Vote Empowerment Campaign (Unity'16 Campaign).
The National Coalition created the Unity Campaign model in 1998 to reinvigorate its 80 membership organization base, 12 state-based affiliates, Black Women's Roundtable and Black Youth Vote Networks. The Unity Campaign model was also designed to cultivate new partnerships and develop new ways to attract and share resources. What makes the Unity model unique and effective, is the ability of The National Coalition to maintain a coordinated, constituency-based integrated voter engagement campaign year-round utilizing national and state based coordinating committees.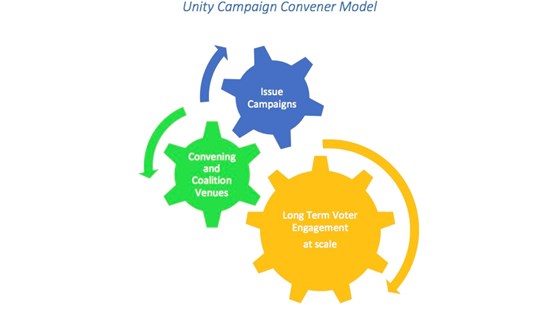 The Unity '16 Campaign seeks to usher in a new balance of power by developing leaders and electing champions who will promote policies that improve the quality of life in Black and underserved communities.
The Unity '16 Campaign includes three (3) organizing components:
The Unity Outcomes
Register 100,000 first-time or returned voters, who may have moved or otherwise been dropped from the voter registration. (Link to VR Tool)
Making at least 300,000 voter contacts through online voter registration, education, protection and GOTV. (Link to Pledge Card)
Assist, educate and inform over 275,000 Black voters on how to protect their voting rights, including assistance with draconian photo ID requirements and other measures enacted in several states that will disenfranchise people of color, students, low-wage workers and seniors. (field, online, earned & paid media)
Mobilizing a universe of over 400,000 Black voters and ensure they cast a ballot.
Train at least 750 volunteers on civic and integrated voter engagement strategies to assist in building a strong voter engagement, voter assistance and public policy education campaign. (Link to Volunteer Form)
Organize and spark conversation between 100,000 youth and young adults ages 18-35 via through Black Youth Vote! through broadcast opportunities, social media and field events designed to support local organizing and build online community. (Link to Social Media)
Manage the Unity Ronald W. Walter Election Command Center to provide support to the on the ground team and partners to facilitate media, solve problems and provide research.
Host Post Election media briefings to highlight key findings from 2016 Election (nationally and in key states) and Unity '16 Campaign Preliminary Report in December 2016 and Final Report in 2017.
The Black Voter Alliance (BVA) began meeting June 2016, after conversations with Black-led organizations indicated that this would be another year, where these organizations failed to be invited to participate in the broader conversations about civic engagement. Led by some of the strongest Black Organizations in the country, the Black Voter Alliance, co-convened by the National Coalition on Black Civic Participation including the Black Women's Roundtable and Black Youth Vote, the African American Clergy Network, the Ronald W. Walters Leadership and Public Policy Center at Howard University, and the NAACP Voter Fund, brings together organizations who have an interest to ensure that the black community has a high level of civic engagement. READ MORE