We are in a State of Emergency!
Call Senators TODAY demanding they oppose the AHCA bill!
Use the MomsRising & BWR Hotline: 1-888-496-4842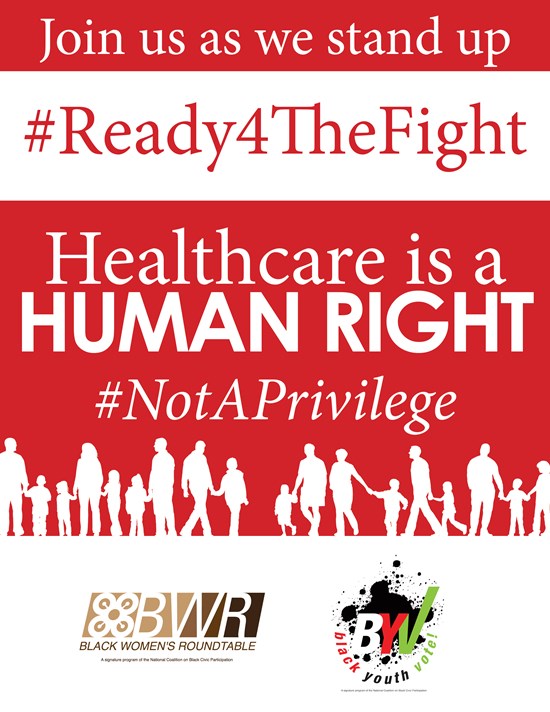 BLACK WOMEN'S ROUNDTABLE AND AARP LAUNCH
"HEALTHCARE IS A HUMAN RIGHT" #NOTAPRIVILEGE CAMPAIGN
Black Women Leaders Join Forces In A Call To Action to Protect Medicare, Medicaid, and Affordable Health Care
May 31, 2017 (Washington, DC) – Today, the National Coalition on Black Civic Participation's (NCBCP) Black Women's Roundtable (BWR), in collaboration with the AARP, announced the launch of its HealthCARE is a HumanRight #NotAPrivilege Campaign (BWR HealthCARE Campaign). The campaign is a call to action, beginning today, that is focused on protecting Medicare, Medicaid and quality affordable health care for seniors, children, young adults and the poor; and protecting Social Security for seniors, dependents and the disabled.
For more information click here: BWR HealthCARE Campaign
The BWR HealthCARE Campaign's overarching goal is to protect the economic condition and overall health and well-being of Black Women and our families through education, organizing and advocacy.
Additional national and state-based partners include: A. Philip Randolph Institute, Alabama Coalition on Black Civic Participation/AL BWR, Black Youth Vote!, Clayton County GA BWR, Florida Coalition on Black Civic Participation, Florida BWR, Georgia Coalition for the People's Agenda/GA BWR, International Black Women's Public Policy Institute, Labor Project for Working Families, Family Values @ Work, Moms Rising, Mothers of Hope/Kalamazoo BWR, Mothering Justice/Detroit BWR, National African American Clergy Network, National Council of Negro Women, National Organization of Black County Officials, NOBEL Women, North Carolina BWR, Ohio Unity Coalition, Pittsburgh BWR/SSON, Women's March on Washington and others. The BWR HealthCARE Campaign is also supported by the Moriah Fund.
To Join the BWR HealthCARE Campaign contact
Ebonee Rice, BWR Projects Manager, NCBCP, at bwrunity@ncbcp.org or (202) 659-4929.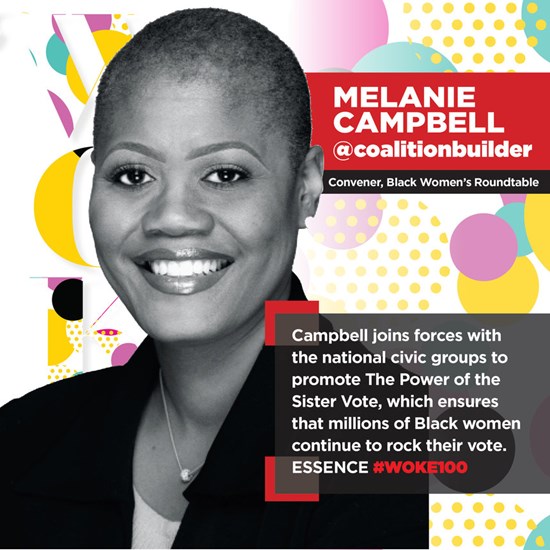 ESSENCE Magazine announced that Melanie L. Campbell , President of the National Coalition on Black Civic Participation (NCBCP) and Convener of the Black Women's Roundtable (BWR), is one of the 100 women in their inaugural #Woke100 list, which "honors Black women activists, artists, politicians, educators, organizers, journalists and creators who are working to achieve equality for people of color."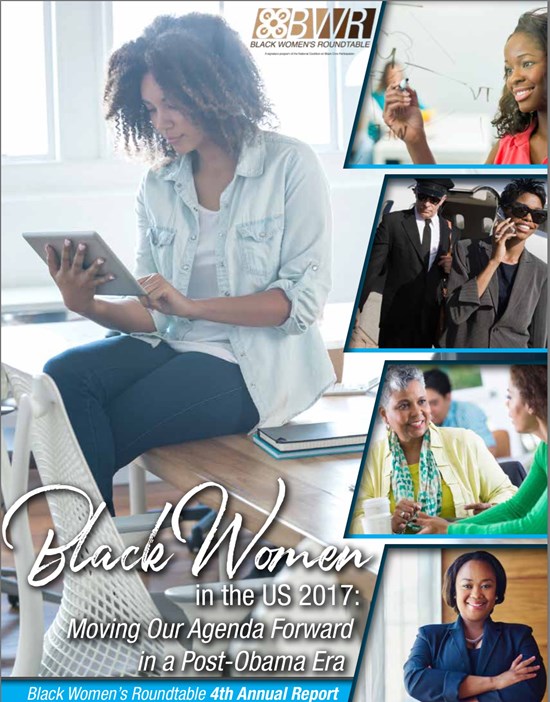 2017 BWR Report 4th Edition - Black Women in the U.S., Moving Our Agenda Forward in a Post-Obama Era
2017 BWR Report 4th Edition - Executive Summary