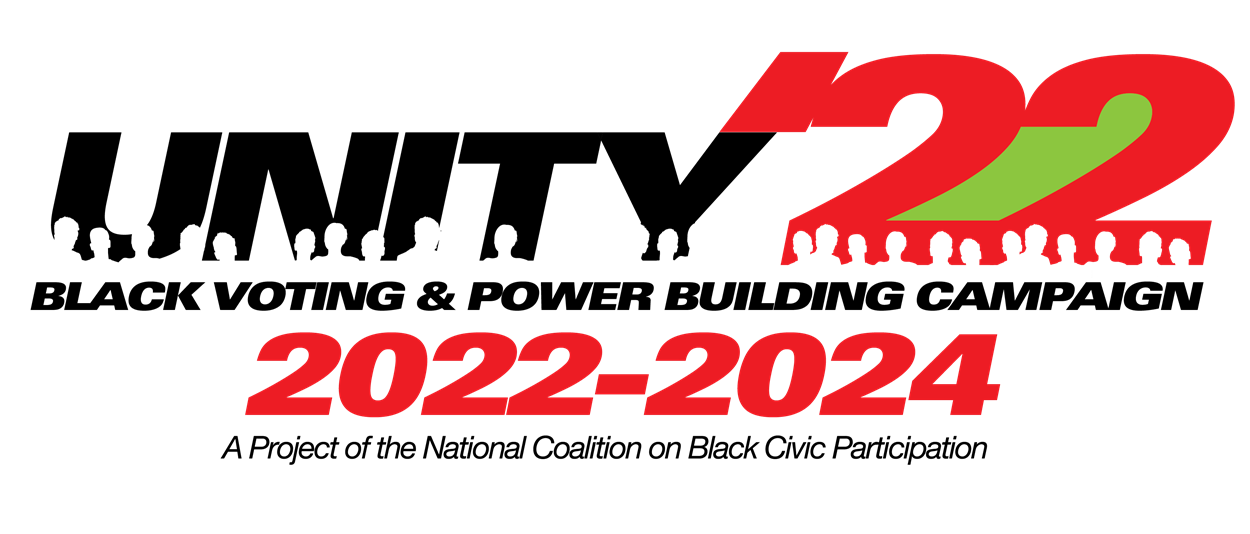 The National Coalition's Unity '22 Black Voting and Power Building Campaign is a non-partisan integrated Black voter engagement and census awareness campaign, focused on leveraging the leadership, power and impact of the Black vote and census participation in the 2022 Presidential Midterm Election.
What is Unity 22': Unity 22' has 3 key priorities:
1) building a broad intergenerational Unity '22 Coalition Table to maximize resources, partnerships and impact in 2022 and beyond;
2) increasing Black voter turnout & providing voter protection tools for Black voters to ensure their vote is counted in the 2022 Mid-Term Election;
3) fight back against historic attacks on rights, freedoms, safety and democracy.
NCBCP has a national membership base of over 80 organizations and state-based affiliates and networks based in eleven (11) states including AL, FL, GA, LA, MD, MI, MS, NC, OH, PA, VA and Washington, DC Metro area.
About Our Partners
We are proud to have over 40 National and State Partners to join us for the 2022 Unity Campaign.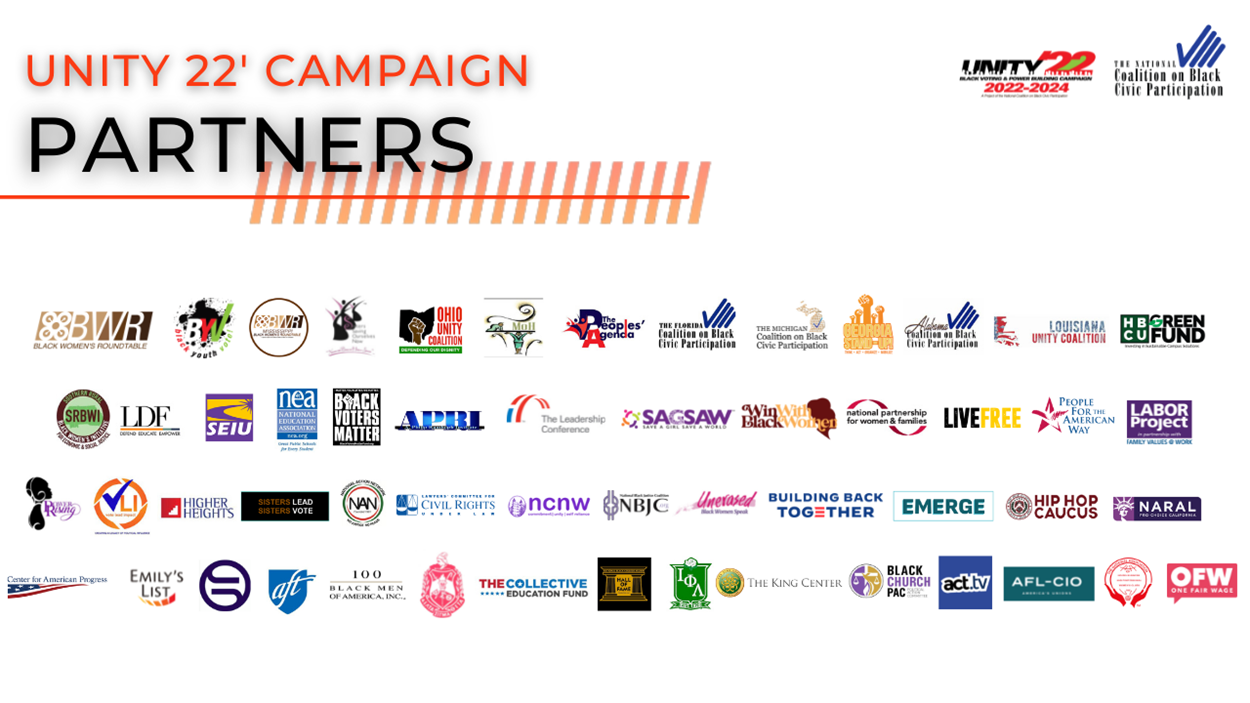 Our Organizing Initiatives
Phase 1: Summer of Activism and Organizing Activities (July - August):
Black Women's Roundtable (BWR) - Black Women Leaders & Allies Calls to Action for Voting Rights, Reproductive Justice, Economic Justice, Gun Safety & Community Events - Door-to-door neighborhood canvassing, calls to action speak outs/freedom marches, forums; and summer community engagement events including health & wellness expos, gas & back-to-school give-aways).
#RuVOTEReady Public Awareness -Social Media & Field Outreach to prepare voters with voter assistance and protection information to vote-by-mail, early vote or vote at the polls.
New Era Foot Soldiers For Freedom - National Black Poll Worker & Poll Monitor Recruitment Drive.
Black Youth Vote! 2022 Black Collegiate & Community Challenge
Phase 2: Vote Your Power GOTV/Voter Protection Campaign (September - December):
Black Youth Vote (BYV) Civic Leadership & Organizing State Trainings
Unity '22 National Voter Registration Day – Voting Is Your Power Registration Drive
BWR "Power of the Sister Vote" and BYV Vote4Justice – Voter Education & GOTV Organizing Initiatives.
Unity '22 Know Your Rights/Voter Protection Campaign for Early Voting & Election Day
NCBCP Unity Ronald Walters National Election Day Command Centers @ Howard University & Clark Atlanta University
Post-Election Media Briefing
Develop a Unity Black Voting & Organizing 365 Strategic Plan for 2023-2024
Our Objectives
1. Increasing organizing and activism in Black communities; and maximizing Black voter turnout in selected sites in state and local elections in the 2022 Midterm Election Cycle with a priority focus on Black women across generations, young Black men (Millennials/Gen Z), immigrants & returning citizens including FL, GA, MI, OH, PA, AL, LA, MD, MS, NC, VA and District of Columbia.
2. Protect the integrity of the vote and our democracy by helping to ensure every eligible vote is counted in the 2022 Midterm Elections through voter assistance & voter protection initiatives including voter suppression, misinformation and disinformation in the field and online.
3. Challenging and educating national, state and local policy makers on the importance of leading on adopting federal, state and local policies need that will save our democracy; protect our rights & freedoms; and save lives-including voting rights, reproductive rights; and promoting economic justice, social justice and gun safety & social justice policies.
4. Maximize collective resources by developing a long-term Unity Black Voting & Power Building Campaign for 2023-2024 that is focused on increasing black civic engagement, voter empowerment and leveraging Black voting power to move a Black Public Policy Agenda forward in January 2023 through the Black Women's Roundtable Public Policy Network; and begin planning for the Unity 2024 Presidential Election Cycle Campaign (2023-2024).